Running the good race
A crown that doesn't perish, 1 Cor. 9:25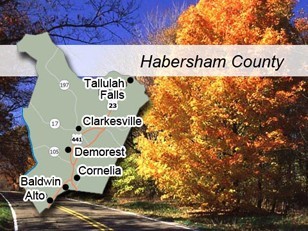 • We are located in the scenic and historic town of Clarkesville, GA. St. Mark Parish was founded June 20th, 1964 and the first Mass celebrated in the new church was in February of 1968. November of that same year saw the official dedication by Archbishop Thomas A. Donnellan.
• It was first cared for by Glenmary Mission priests until 1992. St. Mark has been blessed to have several sisters from various communities assist in its growth. Specifically, Sister Catherine Concannon and Sister Mary Bean, both of the Order of Notre Dame in 1970 to establish various ministries for the social and religious needs of the community. It was during this time that St. Mark became one of the founding members of the Sharing and Caring program in Clarkesville, offering aid to the marginalized in the community. Then in 1980, Sister Mary Burke, formalized our religious education program.
• The parish grew during the 1990's with the arrivalof many hispanic families and subsequently a Eucharist in Spanish began to be offered by Fr. Alex Keenan. This also precipitated the arrival of Sister Martha Herrera, R.F.R., who came to assist the community in 1995 and who established much of what is the Hispanic Apostolate at St. Mark today.
• Since 2013, we have continued to grow. We have, in fact, undergone a second growth spurt. We have gone from ministering to those that arrived at our doors, to reaching out to the peripheries and meeting Christ within our midst through the missionary (Evangelii Gaudium 27) initiative started by Pbr. José Luis Hernández. We were 370 registered families in July 2010, and now we are 869, by January 2020. The Saint Dominic Chapel is one example of how this missionary spirit has emboldened us to seek out "the least of these". A Sunday Eucharist in Spanish is offered, as well as Confessions and a Eucharist is offered on Tuesdays at the Chapel to reach directly those who live in the peripheries. Additionally, religious education classes are offered at the same facility and Adult Faith Formation.
• This missionary spirit does not only include those away from the church, but those within her structure, as well. As diverse and innovative Adult Faith Formation options are offered to the parishioners, in addition to the option of Sunday Family Catechesis where the parents take the lead in teaching their children the Catholic Faith. We have been able to respond as a local Catholic Church here in Habersham County to these needs, because we were commissioned with the Spirit of Jesus by the Archbishop of Atlanta, who confirms his brothers and sisters in faith. He also has conferred upon us the mission of proclaiming the Good News of Jesus Christ.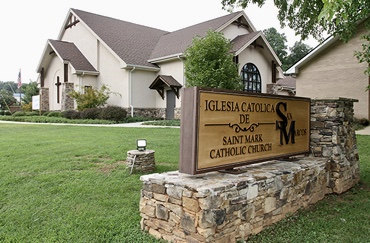 • We, as a parish, by the grace of God, strive to fulfill our mission of being the living body of Christ. As baptized christians, we are called to be a living sign of the risen Lord who is with us. We accomplish this only when we live our baptism to its fullness as we tend with mercy to those in need. St. Mark's pastoral care challenges each member to respond with a welcoming heart in faith, hope, and love in their openness to its diversity of charisms.
• "We give thanks to God for all of you." 1 Thess. 1:2